Watch for Thrips on Berry Plants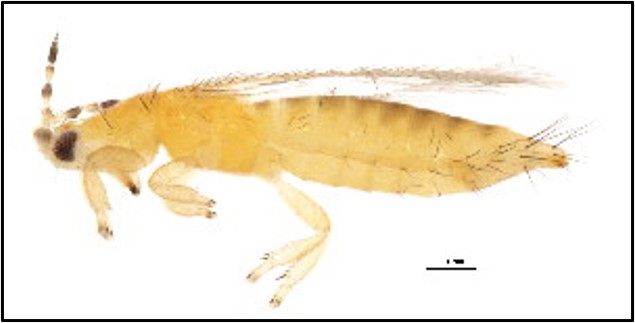 Eastern flower thrips (ETF; Fig 1) have been reported at one of our strawberry research sites in Dane county. As mentioned in our last issue of this newsletter, it is important to monitor by placing traps and implementing sampling/sweeping protocols for ETFs, as well as tarnished plant bug (TPB) and two-spotted spider mites. TPBs have also been detected at our strawberry research sites but we will focus on thrips here.
ETFs likely arrived on air currents during the last southernly windy events we recently experienced. Once ETFs arrive, sometimes appearing all at once in high numbers, they are able to reproduce and sustain a population throughout the growing season, thus it is important to pay attention and take action when the action threshold is reached. For ETFs, the monitoring recommendations are to either shake or tap 10 blossoms per site at 10 or more sites per variety in a white bowl or tray, or to place flower blossoms inside a ziplock bag and shake to dislodge thrips and allow counting. Another method is to place yellow sticky cards scattered in the planting but there is no threshold proposed with sticky cards. While there is no formal threshold, once 2-10 thrips per flower or small berry is reached, a chemical control may be warranted. I realize that 2-10 thrips per flower or small berry is a broad range of densities. If you have a history of damage caused by ETFs in your planting, you may want to be more conservative and use the lower end of the range of 2 thrips. In other states where thrips damage is seldom seen, the recommendation is to use to higher end of the range of 10 thrips.
If you decide to apply an insecticide, Brigade and Danitol have been shown to be very effective at controlling ETFs as well as other pests such as TPB and strawberry clipper. Reduced risk insecticides include Assail and Radiant and in organic production, Entrust can provide control of EFTs. Please refer to the Midwest Fruit Pest Management Guide for more pesticide recommendations and, as always, read and follow the labels.
Please avoid spraying insecticides during bloom when pollinators are present. If you need to spray during bloom, please use reduced risk insecticides and apply pesticides at night to decrease direct exposure to pollinators. There is a great resource from the University of California where you can search by trade name of chemical products and see their toxicity to bees to help you make decisions.
Happy growing season!
This article was posted in
Insects
and tagged
Christelle Guédot
,
eastern flower thrips
,
insects
,
Thrips
.