Watch for Grape Phylloxera Galls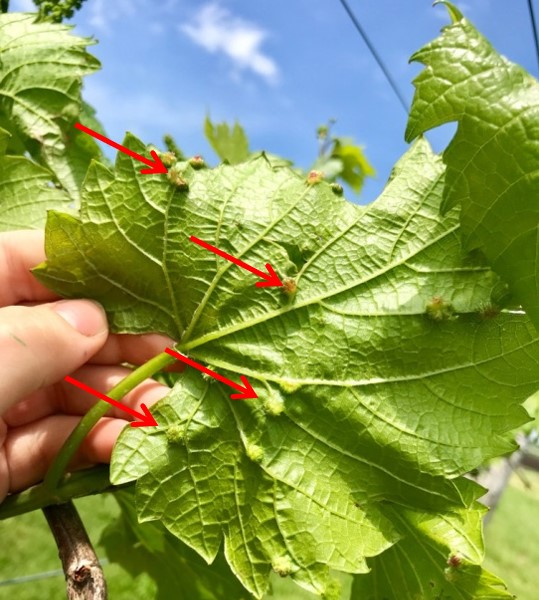 The first galls caused by grape phylloxera (GP; Figure 1) were observed this week at the WMARS and it is recommended to start scouting for phylloxera galls at this time. Leaf galls begin to form when the shoots reach 5 inches long and multiple generations continue to make galls near the shoot tips throughout the summer. While grape leaves do not suffer damage from developing galls in response to the feeding by first generation GP nymphs at this time, high densities of galls caused later by 2nd generation nymphs can cause the leaf to curl and thus not be efficient at photosynthesis (Figure 2). This can in turn result in delayed ripening, reduced crop quality and may predispose vines to winter injury.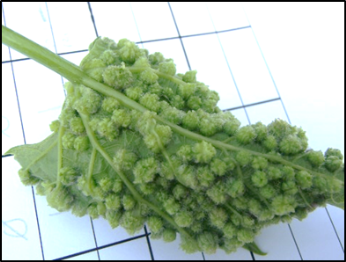 The first generation crawlers will form less than 5 galls per leaf on 1st to 3rd expanding terminal leaves at this time, whereas the 2nd generation walk up to the 5-6th open leaves and can cause 40-50 galls per leaf. Monitoring for galls in May-June when the first generation of nymphs form galls is very important, since each gall contains a female who will produce many offspring which constitute the 2nd generation. Timing can be determined by using a degree day (DD) model starting at the biofix of the time at which the first leaves unfurl and calculating DDs using base 43F. The calculation for each day is DD=Average daily temperature – base 43F. The second generation crawler emergence period occurs as 500-800DDs and it is recommended in the Midwest to start scouting once a twice a week at 450DDs.
Assail, Danitol, and Movento are registered to control grape phylloxera. Spray as soon as possible if there are walking yellow crawlers inside the galls or if you see immature galls forming on terminal leaves. Timing sprays when phylloxera nymphs are exposed while climbing to the new foliage at the shoot ends is important. According to the University of Arkansas, Danitol and Movento worked well with one application against second generation crawlers, whereas Assail (and Danitol) worked when applied twice at a 15day interval (Johnson et al., 2008). Admire Pro is also registered for grape phylloxera management and should be applied from bud swell until the first leaf is fully expanded as a soil drench or side-dress, especially in areas which have shown previously high phylloxera infestations. In most years only 1 spray will be necessary to control GP, with possibly a second spray if necessary. It is important to rotate chemistries from different modes of action (IRAC codes) to delay or prevent the onset of insecticide resistance. For more insecticide options and considerations refer to Table 1 and the Midwest Fruit Pest Management Guide and, as always, read and follow the labels.
Table 1. Insecticide options and suggested application information for GP management in Midwest. Exert from Yin et al. 2019. This is not an exhaustive list and more option may be available.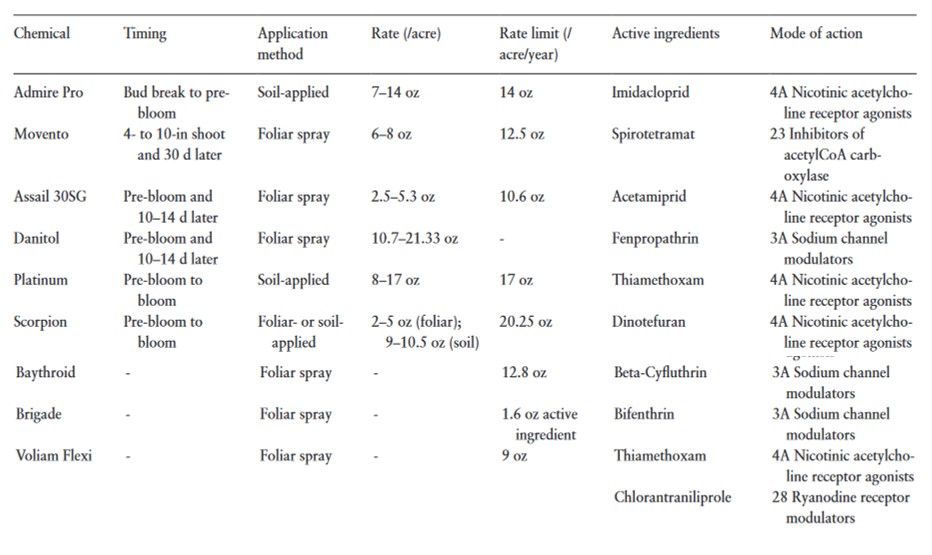 Happy growing season!
References
Johnson, D.T., B. Lewis and S. Sleezer. 2008. Chemical evaluation and timing of applications against foliar form of grape phylloxera, 2006. Arthropod Management Tests 33:C11.
Yin L.Y., Clark M.D., Burkness E.C., and Hutchison W.D. Grape Phylloxera (Hemiptera: Phylloxeridae), on Cold-Hardy Hybrid Wine Grapes (Vitis spp.): A Review of Pest Biology, Damage, and Management Practices. Journal of Integrated Pest Management, 10(1): 16, 2019, 1–9
This article was posted in
Insects
and tagged
Christelle Guédot
,
grape
,
grape phylloxera
,
grape phylloxera galls
,
Grapes
,
insects
,
Phylloxera
,
phylloxera galls
.