There has been some discussion going on among growers about unexpected cordon die-off, especially given that this past winter was not particularly cold, and we wouldn't expect to have significant cold damage. Determining the cause of cordon die-off is not always straight forward, here's a list of possible causes:
Cold damage: Whether it is an extreme cold weather event as a polar vortex or sustained low temperatures during several winters, both of these conditions can result in cold damage to grapevines permanent structures. This type of damage can be expressed by having section or the entire cordon dead and not producing new shoots. However, cold damage can also be expressed later doing the growing season when shoots and clusters are developing. This usually happens because the vine has experienced cold damage to the root and vascular systems, which limits the ability of the vines to move water and nutrient to the developing shoots and cluster, resulting in a sudden collapse of the cordon and in some cases the entire vine (Fig. 1).
Trunk diseases: This is something we tend to see in older vines (>10 yrs) in which sections of the cordon become unproductive (Fig. 2) and over time the entire cordon will die and needs to be replaced. This is a gradual process, which is different from the sudden collapse/die-off we observe when cold damage happens. However, one thing I have noticed when replacing cordons with trunk diseases, is that the new canes that are laid down as replacement can also experience die-off if over cropped. This can be expressed by not breaking bud the following year.
Over cropping: This is applicable mostly to new vines (<5 yrs) and can happen when newly established cordons (1 yr old canes) are allowed to carry 2 clusters in every shoot along the new cordon. When we overcrop new vines, this can make them more susceptible to cold damage during the winter, which can result in cordon die off the following season. The recommendation in this case is to reduce crop load in the new cordon to 1 cluster per shoot, ensuring that the vines will be able to allocate enough reserves to survive the winter.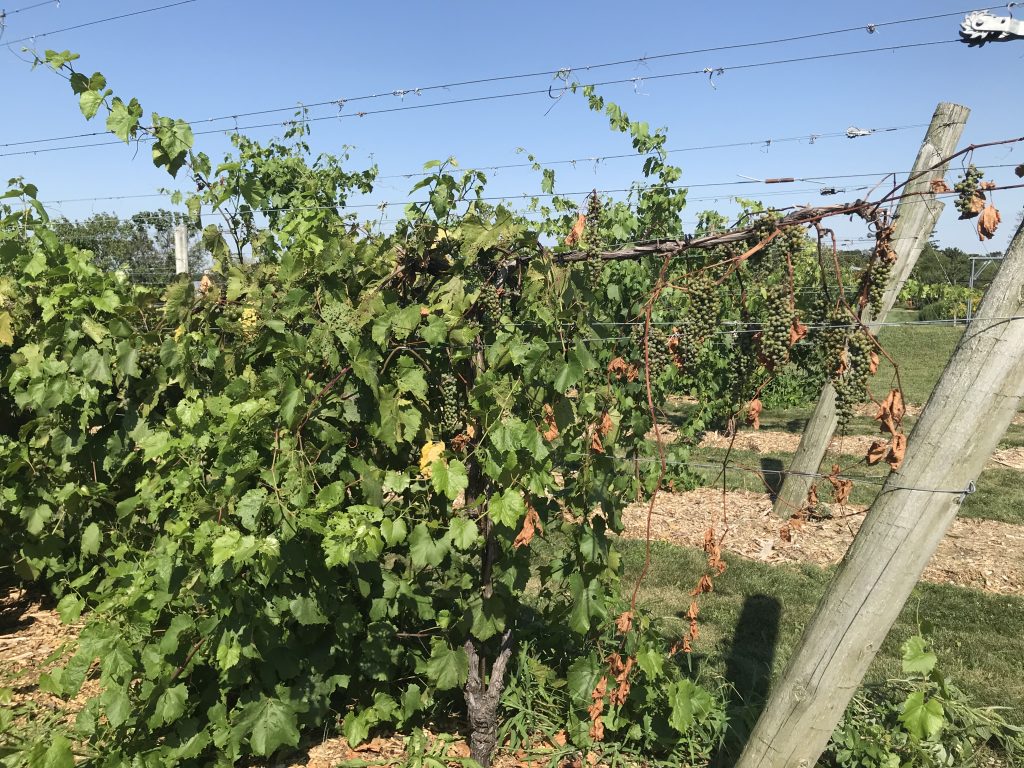 This article was posted in
Grapes
and tagged
Amaya Atucha
,
cold damage
,
cordon die-off
,
Grapes
,
over cropping
,
trunk diseases
,
vine cordon die-off
.