First Japanese Beetles Observed in Grape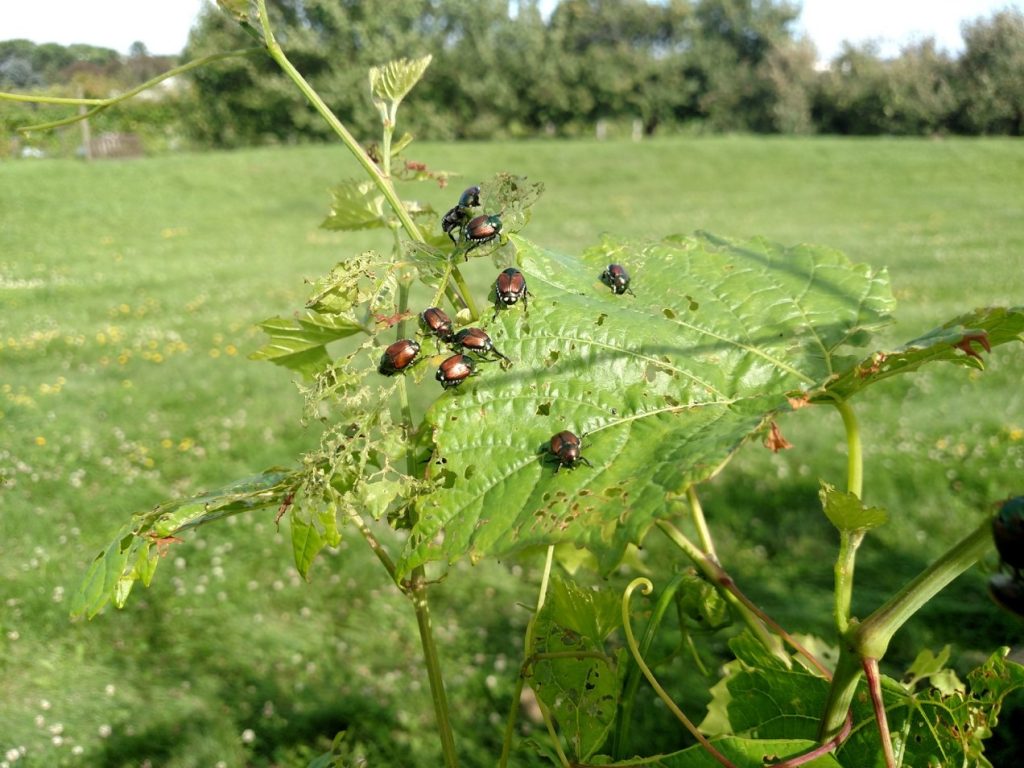 The first Japanese beetle adults (Figure 1; JB) were found as part of our research at a vineyard near Dane county. Emergence has just begun in the last week and numbers will continue to increase in the next several weeks.
Historically, JBs have been found in the Southern half of the state but in the last couple of years, DATCP has reported the presence of JB as far north as Bayfield County, thus grape and berry growers throughout the state should pay attention to this charismatic herbivore.
Grape is a highly preferred host plant for JBs who feed voraciously on the leaves, causing mostly cosmetic damage (Fig. 3). Indeed, grape plants are known to tolerate quite a bit of defoliation, as evidenced by all the thinning that is required each year, and 30% defoliation could be used as a threshold for implementing an insecticide application. Chemical products for JB adults control include organophosphates (e.g., Imidan), carbamates (e.g., Sevin), pyrethroids (e.g., Danitol, Baythroid, Mustang Maxx), and neonicotinoids (e.g., Assail). Organically-approved insecticides that have shown at least some activity against JB include Neemix, Azadirect, Surround, the soil born bacterial insecticide BeetleGone!, and Pyganic.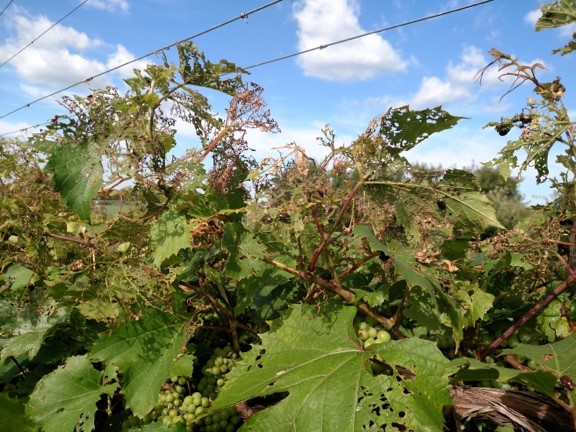 As a preventative measure, soil applications of an neonicotinoid insecticide such as imidacloprid, clothianidin, or thiamethoxan in late June, as a grub control for the new eggs being laid, can help reduce future populations of JB adults on your crops. However, keep in mind that this strategy has been shown to be short lived in blueberry as new adults from outside of the fields move in.
For more in depth information on the biology and management of Japanese beetle, please visit our You Tube channel and watch the webinar on "What to do now in the vineyard: post bloom".
Happy growing season!
This article was posted in
Insects
and tagged
Christelle Guédot
,
Grapes
,
insects
,
Japanese Beetles
.