Cranberry Crop Management Journal Time Machine
Articles published to the journal under Teryl Roper's management are now easy to access, and growers and new hires can track research progress through time, or look back at the information presented when new chemistries were first introduced. Our current catalogue of CCMJ volumes from 2010-2023 is now joined by the back catalogue from 1993 to 2006.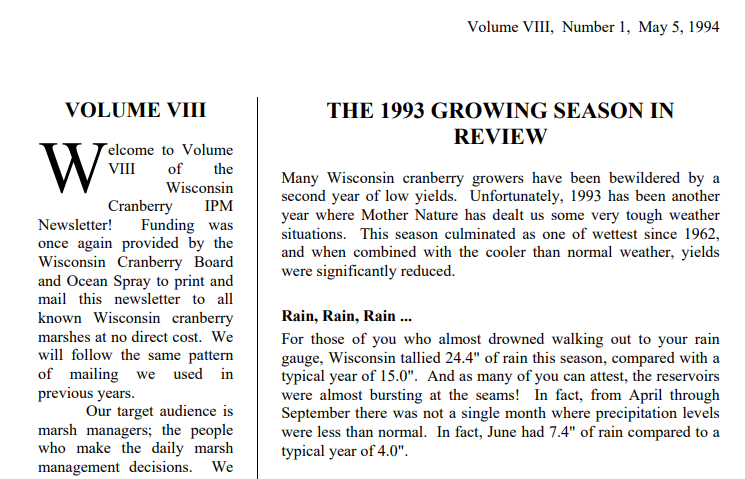 Attempting to check an article cited in later research, Allison found that Cranberry Crop Management Journals prior to 2010 were no longer available in a publicly hosted location. Mackenzie Ryan, Assistant University Records Officer of the University Archives and Records Management department at Steenbock Library, was able to source 13 years of these publications—1993 through 2006 have been saved and catalogued for future growers to refer to. Josie Russo, Communications Specialist in the Dept of Horticulture, has added these issues to the fruit.wisc.edu website.
You may notice that our search has not yet turned up copies from 2007 and 2008, or anything before 1993. If any grower has paper copies of these issues, Mackenzie would be willing to scan them to include in the archives, and then return them to you. If you have these in your collection, please contact alison.jonjak@wisc.edu or mackenzie.ryan@wisc.edu to arrange shipping details and timeframes.
Thank you, and enjoy the archives!
This article was posted in
Cranberry
,
Other News and Resources
and tagged
Allison Jonjak
,
Archive
,
CCMJ
,
CCMJ Archive
,
Cranberries
,
Cranberry Crop Management Journal
,
Josie Russo
,
Mackenzie Ryan
.