Grape Insect Report – 2016 Summer Summary
Throughout the past summer we have been scouting weekly at the West Madison Agricultural Research Station (WMARS) and the Peninsular Agricultural Research Station (PARS). Here is a brief summary of our findings, along with links to previous published articles from this newsletter, where you can read more about the key pests from this past summer.
Calendar of occurrence of insects observed at WMRS in 2016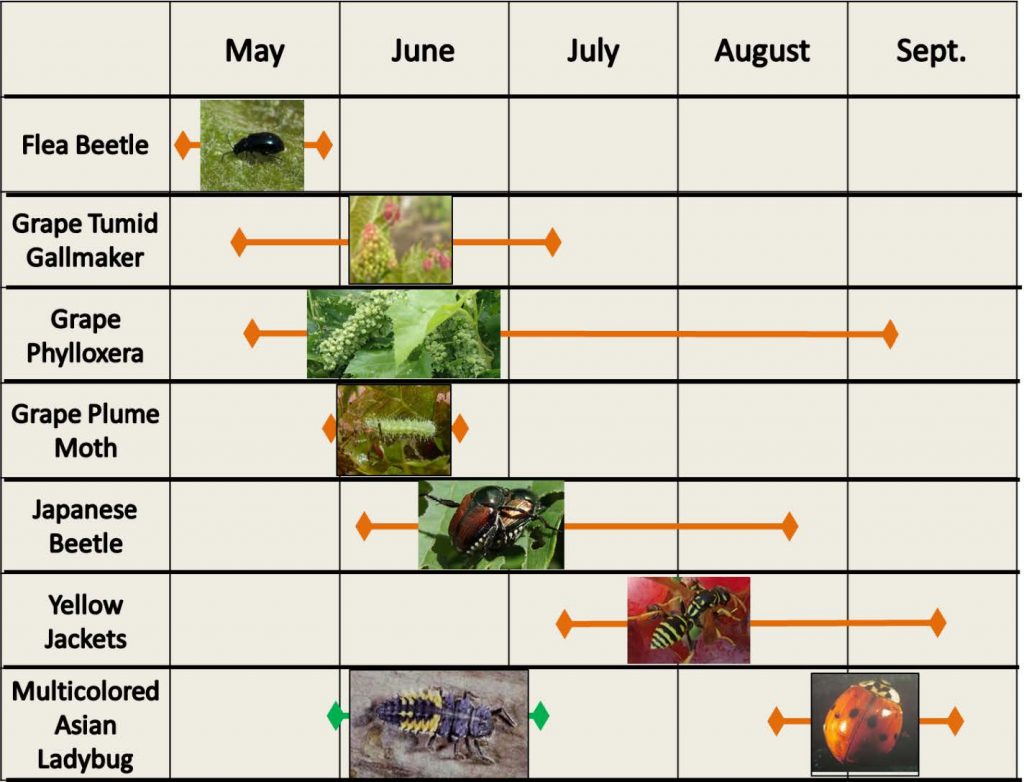 Grape Flea Beetle is first seen in early spring (late April through May) as buds begin to swell. This year grape flea beetle did not cause much damage at the vineyards where we were scouting. The lower numbers of this pest may have been due to the relatively quick bud development due to warm temperatures this spring – grape flea beetle does best when buds develop slowly during a prolonged, cool spring. Although we did not focus on grape flea beetle in the Wisconsin fruit newsletter this summer, you can find information about this pest in the 2013 Grape IPM Scouting Report, issue 1 (page 1).
Grape Phylloxera populations were especially high this past summer in the WMARS vineyard where we were monitoring. Infestations begin in late May, although we didn't begin to see significant damage until mid-June. Unfortunately, by then, it was too late to control phylloxera with an insecticide spray, because the nymphs were already safely enclosed in the leaf galls.
If you similarly saw high numbers over this past summer, it would be a good idea to be especially careful about monitoring early next spring, to catch and control for the phylloxera as soon as the first galls begin to form in May or you may consider applying a prophylactic treatment around bud swell. For more information about early spring control of grape phylloxera, please see the Wisconsin Fruit News, issue 6 (page 18).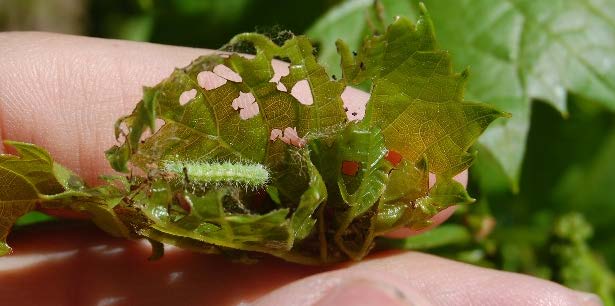 Grape Plume Moth is a sporadic pest, but was seen in higher number this summer than most, although it still was not numerous enough to cause economic damage at either PARS or WMARS. In fact, research at Cornell University has shown that up to 20% of shoots on a vine can be infested with grape plume moth without any effect on yield. If you would like more information about grape plume moth identification, monitoring or control, please see the Wisconsin Fruit News, issue 5 (page 14).
Grape Tumid Gallmaker is another pest that was seen in unusually high number in Wisconsin this summer. Similar to the grape plume moth, grape tumid gallmaker populations, in most vineyards, have not reached high enough levels to cause economic damage. However, as populations have continued to increase in both Michigan and Wisconsin over the past few years, it will become increasingly important to recognize and watch for this pest in your vineyards.
Grape tumid gallmaker has 2-3 generations in Wisconsin, with the first appearing in mid-May and continuing throughout most of the summer. Compared to grape phylloxera galls, which are green and fuzzy/rough, grape tumid gallmaker galls are shiny, smooth and often iridescent red (see photos at right). For more information about the grape tumid gallmaker, please see the Wisconsin Fruit News, issue 7 (page 11).
Japanese Beetles began to appear this past summer in mid-June at WMARS, and caused significant foliar defoliation through the end of August. Populations were higher than normal at WMARS, possibly because the mild winter allowed unusually high numbers of larvae to survive the winter. The graph below to the left shows Japanese beetle phenology throughout the summer at WMARS. Insecticide applications targeting Japanese beetle began at the station in early July, and appear to have prevented populations from continuing to increase throughout the late summer. Japanese beetles were an insignificant pest of grapes at PARS this past summer.
At WMARS we counted the average number of beetles per vine for seven wine grape varieties. Although this is preliminary data from a single location, there is a trend toward Japanese beetles feeding most frequently on Marquette, and feeding least on St. Croix. Future work would be necessary to determine if this trend in consistent across years and locations (see graph above at right – red bars are red wine grapes and blue bars are white wine grapes). To read more about Japanese beetle life cycle, monitoring, and control, please see the Wisconsin Fruit News, issue 8 (pages 6-7 and 17-18).
Yellow Jackets represent a potential economic pest in the vineyard, as they do feed on fruit in the fall; however, they also are a nuisance and potential danger to employees harvesting or working in the vineyards in fall. In the past years, increased numbers of yellow jackets have been observed in several states and fruit crops, possibly due to the increased use of softer pesticide chemistries. This past summer at WMARS, yellow jackets began to be seen in low numbers in mid-June, were seen more consistently by mid-July, and reached high enough densities to be a nuisance in August and September. This very closely matches with the phenology data we collected in 2015 (see figure at right). At PARS, wasp populations built up more slowly, but were also at nuisance levels by September.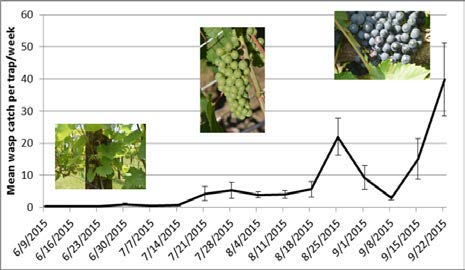 In 2015 we determined the four most common species of yellow jacket in our vineyards, and found that in order to effectively bait and trap all four of those species you will need different baits, such as an acetic acid/isobutanol mix and heptyl butyrate. Future work will look at determining the ability of these species to directly damage grape and to identify best attractants for these species. For more information about removing yellow jackets and their nests from vineyards, please see the Wisconsin Fruit News, issue 8 (page 17).
Multicolored Asian Lady Beetle can be both a pest (during the fall, as an adult) and a beneficial (during the summer, as a predacious larva). For this reason, and because there are many species of beneficial, native lady beetles, it is especially important to monitor in fall and to avoid spraying unless lady beetles reach an economic threshold. At both WMARS and PARS this past summer, lady beetle populations stayed at low densities, and no cultural or chemical controls were necessary to control them. For more information about multicolored Asian Lady Beetle life cycle, monitoring, and control, please see the Wisconsin Fruit News, issue 11 (pages 8-9).
New invasive pests in Wisconsin include the Spotted Wing Drosophila (SWD) and the Brown Marmorated Stink Bug (BMSB). These both have the potential to be present in Wisconsin vineyards and are able to feed on grapes.
There have been many reports of spotted wing drosophila in vineyards in Wisconsin. Despite their prevalence, research from the Guédot lab has shown that it is unlikely that SWD can use their ovipositor to puncture the thick skin of our wine and table grapes. Therefore, it is expected that SWD in vineyards are feeding and ovipositing on previously damaged grapes, and are unlikely to cause further significant damage. More research needs to be conducted on table grapes to assess different varieties.
Regarding BMSB, however, research from the East Coast has shown that they are able and highly likely to damage not only grape berries, but the grape vines as well. To date, BMSB has not been a pest of grapes in Wisconsin, as populations are, just in the past year, increasing to pestiferous levels. In fact, this summer was the first year BMSB was trapped in Wisconsin in agricultural crops (apples and pumpkins in Dane County). It is likely that in future years the prevalence and damage potential of BMSB in grapes and other Wisconsin crops will only increase, so it will be important to be on the lookout for this pest in the future. For more information about Brown Marmorated Stink Bug, please see the Wisconsin Fruit News, supplemental issue or visit stopbmsb.org.
We hope you enjoyed our scouting reports this past season. Thank you to WGGA for providing support to scout at PARS!
This article was posted in
Grapes
,
Insects
and tagged
cold climate grapes
,
Grape Flea Beetle
,
grape phylloxera
,
grape plume moth
,
Grape Tumid Gallmaker
,
Grapes
,
insects
,
Japanese Beetles
,
multicolored Asian lady beetle
,
yellow jackets
.