Vineyard Update: Spring Management
Last week we had a great webinar entitled "What to Do Now in the Vineyard – Bud Swell" which is now available on Youtube. We had UW-Madison and UMN extension specialist provide information and recommendations for what to do during bud swell.
Topics:
2:49-12:24: Flea beetles, cutworm, and phylloxera (Dr. Christelle Guedot, UW-Madison Extension)
13:06-22:15: Early season disease management (Annie Klodd, UMN Extension)
23:00-35:41: Weed management (Jed Colquhoun, UW-Madison Extension)
35:40-47:15: Grapevine fertility (Amaya Atucha, UW-Madison Extension)
47:17-105:52: Q&A (moderated by Matt Clark, UMN Extension)
We have planned another webinar scheduled for May 13. You can register here.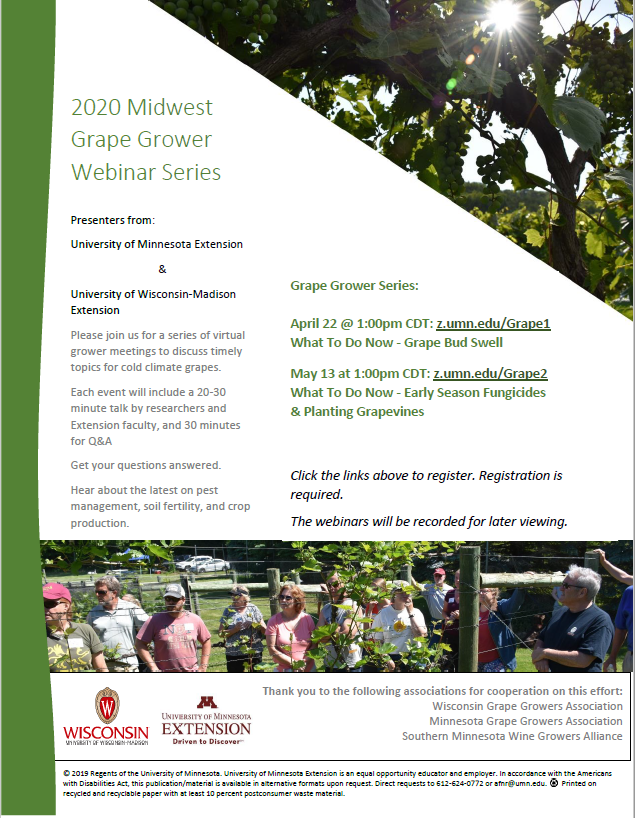 This article was posted in
Grapes
and tagged
cold climate grapes
,
webinar
,
WFN
.