Berry Splitting in Grapes, Should You Harvest?
Last week, as we were making progress towards a potentially great grape harvest at the West Madison Ag Research Station (WMARS), we got over 3 inches of rains during 3 consecutive days. At that point, fruit maturity levels for most red cultivars were between 17-20 Brix, with TA levels ranges between 17-14 g/L , and pH ~3.1, which meant that we only needed about 14 to 20 more days to achieve our fruit maturity goals. Unfortunately, all that rain resulted in a significant number of berries splitting, specially in cultivars with tight clusters such as Petite Pearl and Crimson Pearl (Figure 1 A). There was a lower incidence of split berries in Marquette and Frontenac, which are cultivars that have more open clusters (Figure 1 B and C). So, the big question was do we go ahead and harvest, even though we did not have the fruit maturity levels we desired, or we postpone to gain more °Brix and hope berries will not decay? This is no easy decision and I wanted to share with you our decision-making process.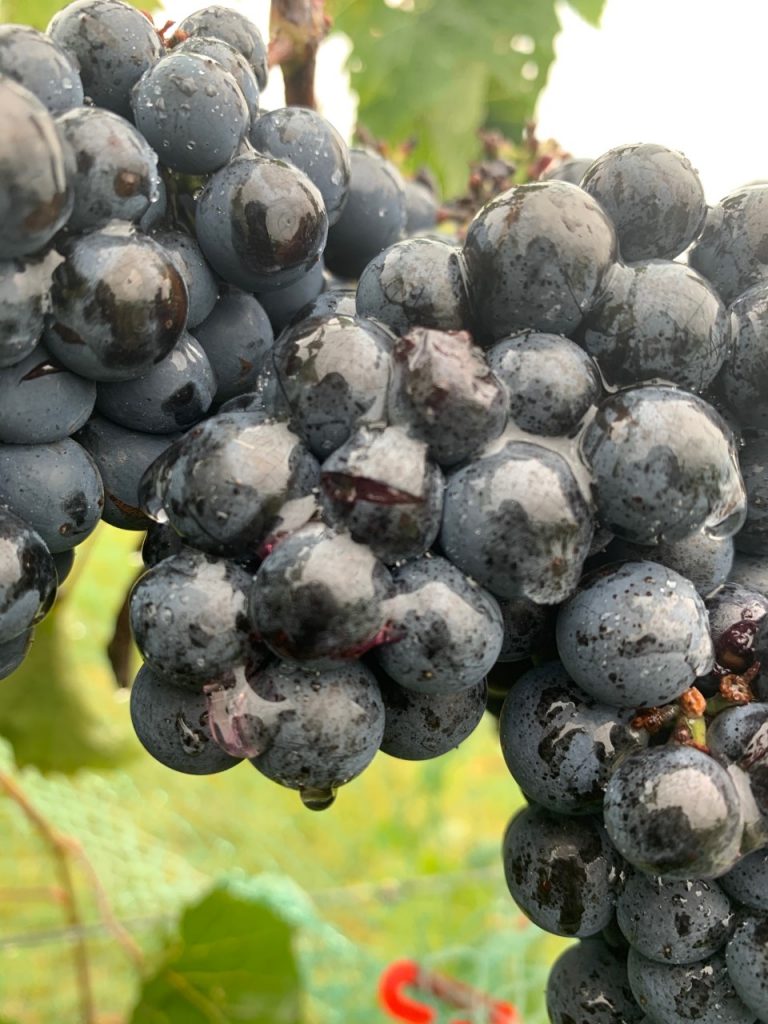 First, we evaluated the extend of the damage by counting the number of split berries in representative clusters in selected vines. We estimated 20 to 30% of the cluster had a minimum of 5 split berries in Petite Pearl, these clusters where mostly located on the top of the high wire cordon, and 5 to 10% of cluster had split berries in Marquette and Frontenac.
Second, we looked at the weather forecast to predict how fast we could gain °Brix if we let the fruit hang for a couple of days. As a rule of thumb, the rate of °Brix increase is about 1°Brix per week, with sunny and moderately warm weather (~75 °F). Based on our forecast the weather was going to be dry and sunny for the next 10 days.
Taking these two factors in consideration we decided to wait and evaluate daily how fruit maturity and berry integrity evolved during the following days. In the photos below, you can see what happened with the clusters 3 days after the last rain event (Figure 2 A, B, C). The picture on the left is a Petite Pearl cluster that had, at the time we evaluated the damage, about 25% of split berries, the picture in the middle had 10% split berries and the picture on the right had less than 5% of split berries. As you can see, in only 3 days there was a substantial decay of the clusters and we had no gain in °Brix. In addition, we had a big influx of wasps and other insects that accelerated the cluster decay and made harvest very difficult.
In summary, there are significant differences among cultivars in their tendency to split berries after rain events close to harvest. Petite Pearl and Crimson Pearl sustained higher damage than Marquette and Frontenac in our research vineyards. There are also variable rates of split berries depending on the position of the cluster in the canopy, clusters on the top of the cordons (in high wire cordon training system) had higher number of split berries than those located in the inside of the canopy. We strongly recommend growers to harvest as soon as possible if more than 20% of the berries in the clusters are split. To be able to make an informed decision it is critical that growers do a thorough assessment of the damage they have in the vineyard immediately after the rain event.
This article was posted in
Berries
,
Grapes
,
Insects
and tagged
Amaya Atucha
,
Berries
,
berry
,
berry splitting
,
Grapes
,
heavy rains
,
insects
,
splitting
,
Wasps
.