Grape Berry Ripening Update for Wine Grape Cultivars at UW WMARS
Berry Ripening Parameters for Red Wine Cultivars at WMARS
Below are graphs showing the progression of the berry ripening parameters at WMARS: % total soluble solids (TSS), titratable acidity (TA) concentrations, and pH. All cultivars reported here are grown on the high cordon training system.
TSS is a measure of the density (mass/volume) of all the soluble solids in grape berry juice and is determined easily using a refractometer as %TSS. Sugars (mainly glucose and fructose) comprise 95-99% of the TSS in grape juice and so %TSS is good stand-in measure for sugars. It is common for people to use %TSS and °Brix interchangeably when referring to sugar levels in fruit. Other constituents of TSS include organic acids, phenolic compounds, nitrogenous compounds, and structural polysaccharides. Hydrometers utilize various scales, including ºBrix, and measure the sucrose (a disaccharide composed of one unit of glucose and one unit of fructose) concentration in aqueous solution (1 ºBrix = 1 g sucrose / 100 g solution = 1%).
The concentration and strength of acids in grapes is accounted for in two ways: TA and pH. TA measures both the dissociated (free hydrogen ions) and un-dissociated acids (such as in organic acids). The main organic acids in grapes are tartaric and malic acids, with citric acid a distant third. TA is measured by titration of the sample with a base (an alkaline solution), such as sodium hydroxide, and is expressed as a concentration (g/L) on the basis of tartaric acid equivalents. The values determined are a good indication of the sensory perception of tartness. The pH of substance is a measurement of the concentration of dissociated free hydrogen ions, expressed on a unitless scale from 1 (acidic) to 14 (basic).
Fruit ripening parameter values as of September 7, 2021.
| | | | | |
| --- | --- | --- | --- | --- |
| | Crimson Pearl | Frontenac | Marquette | Petite Pearl |
| TSS (%) | 18.10 | 23.90 | 24.00 | 18.30 |
| TA (g/L) | 9.44 | 12.58 | 12.01 | 10.55 |
| PH | 3.34 | 3.28 | 3.36 | 3.31 |
% Total soluble solids (proxy for sugars)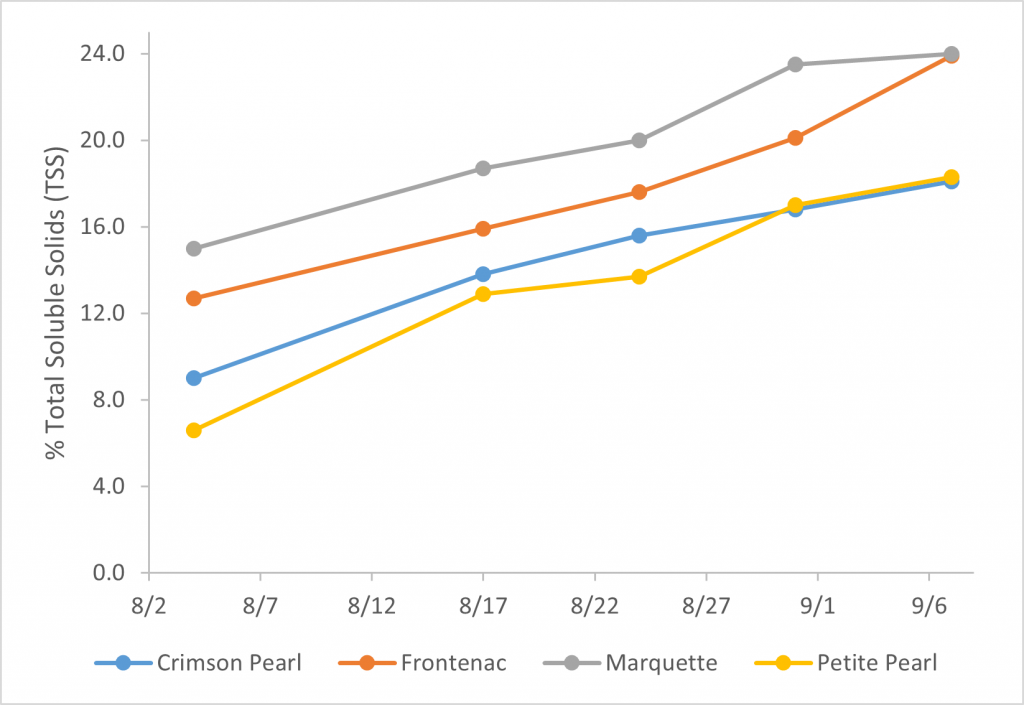 Titratable acidity (tartaric acid equivalents)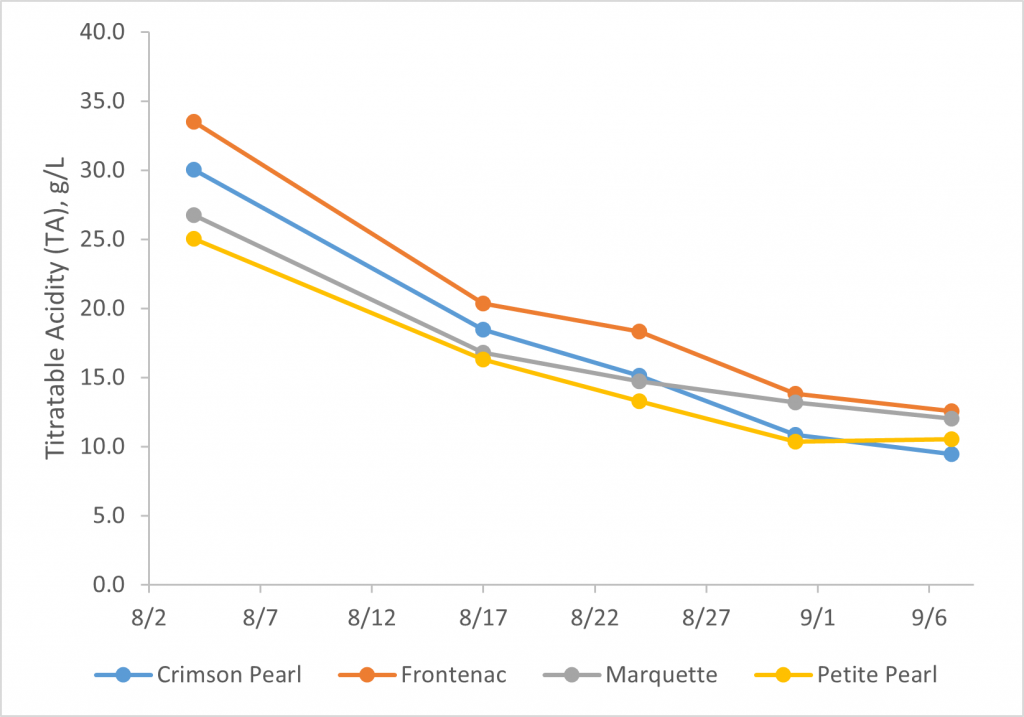 pH (concentration of free hydrogen ions)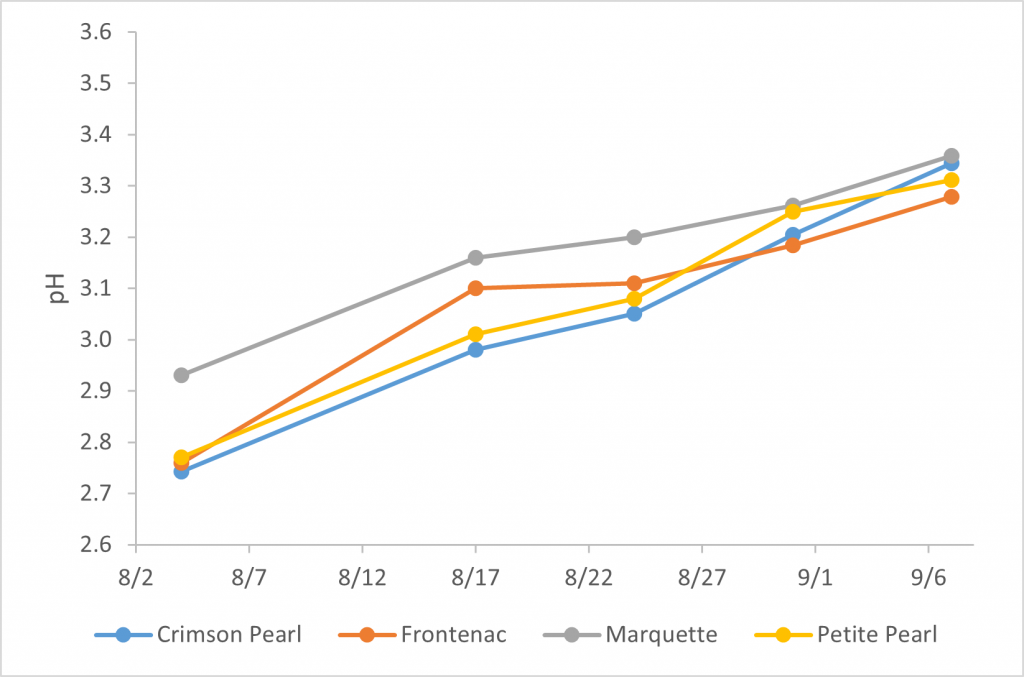 This article was posted in
Grapes
and tagged
Amaya Atucha
,
berry ripening parameters
,
Beth Ann Workmaster
,
cold climate grapes
,
cold-hardy wine grapes
,
Grapes
,
Jarret Miles-Kroening
,
red wine cultivars
,
wine grapes
,
WMARS
.