Genetic Fingerprinting at the Wisconsin Cranberry Research Station: Part 1
Cultivar contamination—whether by sport seeds that germinated from an unharvested berry, or by impure cuttings used for propagation when a bed was planted—prevents cranberry growers from attaining peak yields. Because low-yielding or even non-yielding cultivars can outcompete high yielding varieties by investing more heavily in vegetative growth than in fruit, cultivar contamination tends to progress over time, and can only be addressed by replanting. When a commercial marsh was selected to become the new Wisconsin Cranberry Research Station (WCRS) in 2017, it provided an opportunity to hone cultivar identification analyses at the same time as informing WCRS about the prospects of continuing to cultivate the existing beds, vs renovation.
Of the 10 beds at the new WCRS, 9 were planted to Stevens and 1 to BG. Based on visual inspections (figure 1) and yield, some amount of barren berry (a common name for cultivar contamination with non-fruiting cultivars) was suspected in the Stevens beds. The genetic fingerprinting analysis that Juan Zalapa's lab performed allowed an opportunity to compare visual cultivar contamination estimates with genetic test results. This dovetailed with the opportunity to compare genetic test results with yield records, and finally inform the decision of renovation for each bed.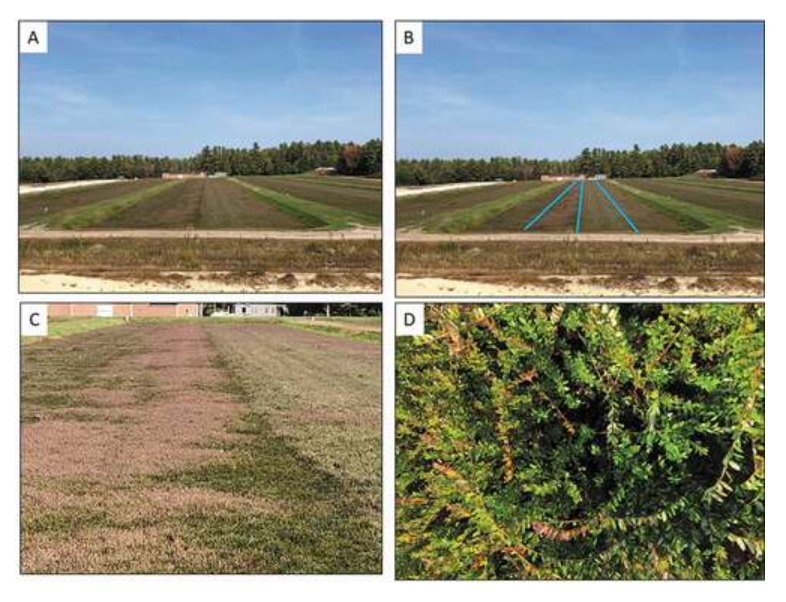 Visual estimations were made based on vine color (red/green), vine height (tall/short), and fruit production (fruiting/barren). After the visual estimations were made, 288 samples were taken for fingerprint analysis. Each sample location was GPS tagged, and each sample was an individual upright or runner with at least 20 leaves of current-year growth.
Dr. Zalapa's lab used the Doyle & Doyle (1987) method of 18 steps across 60+ hours to isolate DNA from the samples. Polymerase Chain Reaction (PCR), a series of thermal cycles, was the next step in preparing the samples for genotyping.
Nine "microsatellite loci" were used as identifiers of the cultivars. A "simple genetic distance matrix" was calculated for each pair of samples, and samples with all 9 alleles identical were considered to be clones.  
Of the 288 collected samples, 285 produced usable information. The samples were of 16 total genotypes (see Figure 2). Based on planting intention, 261 samples were supposed to be Stevens. In fact, only 180 were—this is 69% genetic purity among the Stevens beds. Based on planting intentions, 24 samples were supposed to be BGs, but only 17 were—this is 71% genetic purity for this bed. The contamination within the BG bed is a closely related BG variant known as BG48.
The most frequent contaminant variety for the expected-Stevens beds was 'Perry Red,' which, despite its name, is a non-fruiting cultivar. Six of the 9 Stevens beds contained Perry Red. Other named contaminating varieties were Howes, Potter's Favorite, and Bugle Mashpee Type.
Nine unknown genotype variants were also identified which could not be matched to accessions in cranberry genetics collections. A Principal Coordinate Analysis (PCoA) was run to determine the likely lineage of these unknown cultivars. Unk4 is closely related to BG and BG48. Unk9 is likely a self of Stevens, Unk5 shares most alleles with Potter's Favorite, Unk2 is closely related to Howes, and Unk6 shares a large proportion of alleles with Ben Lear and Demoranville (itself a Ben Lear x Franklin). Unknowns 1, 3, 7, and 8 were not able to be identified as similar to known cultivars.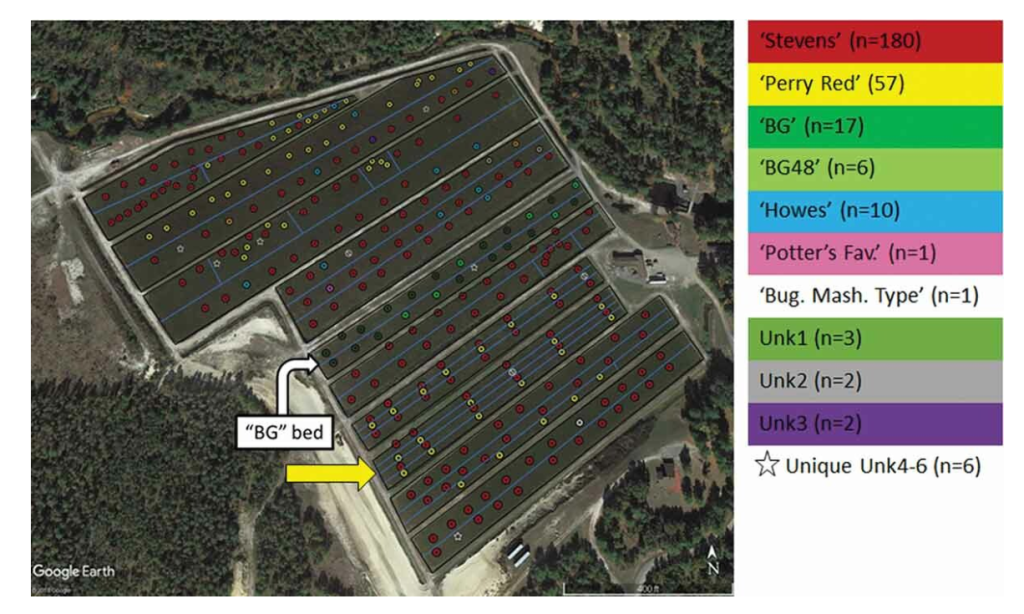 Genetic Fingerprinting at the Wisconsin Cranberry Research Station: Part 2, featuring historical yield analysis, will appear in the Cranberry Crop Management Journal vol. 35 issue 3.
Daniel Matusinec, Andrew Maule, Eric Wiesman, Amaya Atucha, Mura Jyostna Devi & Juan Zalapa (2022) The New Cranberry Wisconsin Research Station: Renovation Priorities of a 'Stevens' Cranberry Marsh Based on Visual Mapping, Genetic Testing, and Yield Data, International Journal of Fruit Science, 22:1, 121-132, DOI: 10.1080/15538362.2021.2014016 https://www.tandfonline.com/doi/full/10.1080/15538362.2021.2014016
Doyle, J.J., and J.L. Doyle. 1987. A rapid DNA isolation procedure for small quantities of fresh leaf tissue. Phytochemical Bulletin 19:11–15.
This article was posted in
Cranberry
and tagged
Allison Jonjak
,
Cranberries
,
genetic fingerprinting
,
Juan Zalapa
,
WCRS
,
WI Cranberry Research Station
,
Wisconsin Cranberry Research Station
.