Multispectral Imaging for Cranberry Production Improvement
Understanding Remote Sensing
Jyostna Mura's team is currently engaged in the development of remote sensing technologies specifically tailored for the cultivation and monitoring of cranberries. Remote sensing is the use of images captured by satellites and aircraft, allowing for the evaluation of field conditions from a distance without making physical contact with the target. Since cranberry beds are larger than a human field-of-view, we can't make observations of the entire bed simultaneously. However, this limitation can be overcome through remote sensing techniques.
Different Kinds of Remote Sensing
1. Visual Imaging: This method captures images as they are perceived by our eyes.
2. Multispectral Imaging: Captures specific wavelengths, offering more than what's visible.
3. Hyperspectral Imaging: Provides high-resolution images across many contiguous spectral bands.
4. Thermal Imaging: Focuses on detecting heat, revealing images based on temperature variations.
Comparative Analysis of Imaging Techniques
| | | | |
| --- | --- | --- | --- |
| S.no | Imaging Techniques | Advantages | Disadvantages |
| 1 | Visual | – Intuitive – Similar to human perception – Easy to interpret | – Limited to visible spectrum -Might miss underlying issues |
| 2 | Multispectral | – Captures specific wavelengths – Detects issues invisible to the naked eye – less computer processing power required vs hyperspectral | – Limited to certain bands -Less detailed than hyperspectral |
| 3 | Hyperspectral | – Detailed across many bands – Potential to identify varied issues | – Complex data analysis – Requires advanced software |
| 4 | Thermal | – Detects temperature differences – Ideal for spotting heat-related stress or diseases | – Solely temperature-focused analysis |
This table summarizes the key elements of each imaging technique, allowing cranberry growers to make informed decisions about which technology to employ for their specific needs.
Vegetation Indices and Their Importance
Vegetation indices, like NDVI and ADVI, are numerical markers derived from remote sensing to assess vegetation's health and vigor.
NDVI (Normalized Difference Vegetation Index): This is a human-created ratio used to make plant status differences easy to notice. At its core, NDVI measures the difference between how plants absorb and reflect light, specifically in the red and near-infrared spectrums. Chlorophyll, essential for photosynthesis in plants, strongly absorbs visible light in the red portion of the spectrum, while the cell structure of the plants reflects near-infrared light. This means that a plant with a high concentration of chlorophyll will absorb more red light and reflect more near-infrared light, leading to a higher NDVI value.
As a general guideline:
High NDVI (closer to +1.0): Indicates healthier vegetation, with a dense concentration of chlorophyll. Typically represented by dark green colors on NDVI maps.
Medium NDVI: Suggests moderate vegetation health, perhaps due to factors like approaching maturity or stress. Often displayed as yellow on NDVI maps.
Low NDVI (closer to -1.0): Highlights sparse or stressed vegetation, which could be due to conditions like water scarcity, disease, or nutrient deficiency. These areas are usually represented in red hues on NDVI maps.
Understanding these variations allows for more effective crop management, as growers can pinpoint areas that might need more attention or different treatments.
ADVI (Advanced Differential Vegetation Index): Combining Visual and NDVI, ADVI paints a colorful portrait of the marsh's health. Red indicates trouble spots, green for healthy patches, and yellow for moderately stressed areas.
2023 Data Collection Insights
A closer look at the provided figures unveils the profound capability of these tools: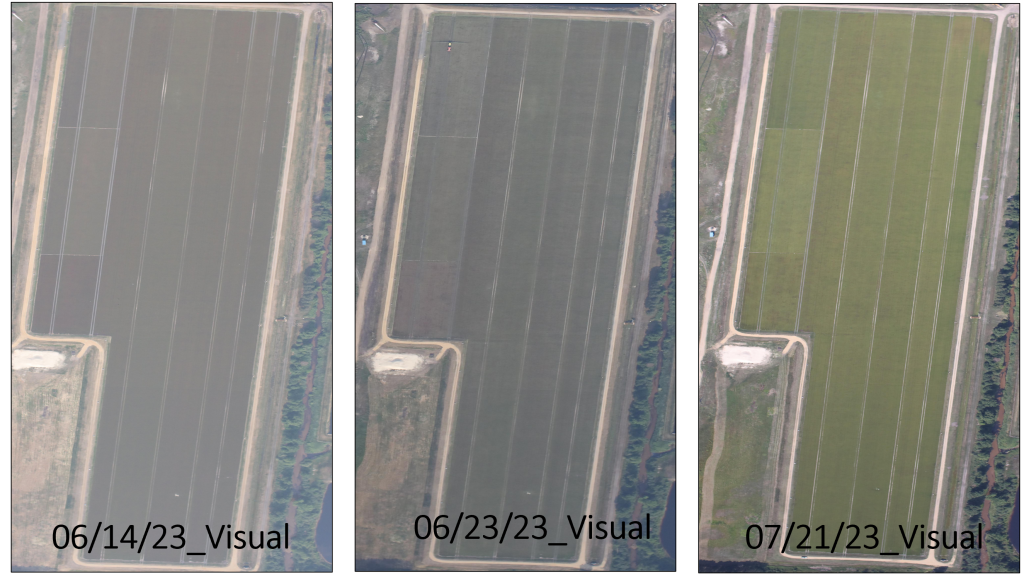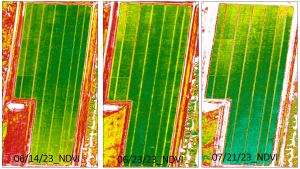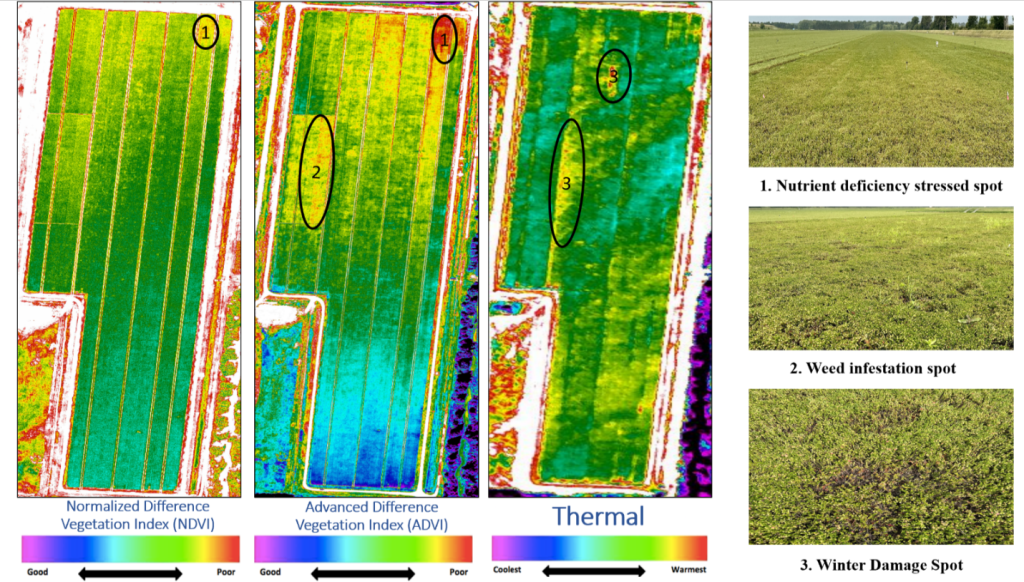 Validating Remote Sensing Maps through Uprights and Soil Analysis
Following image collection and analysis, we identify stressed spots (Figure 3) and categorize them based on color as healthy (green), moderately stressed (yellow), or highly stressed (red) spots. As part of our comprehensive approach to validating the information presented in the remote sensing maps, we collect uprights and soil samples from each spot (including healthy regions). We analyze the samples for nutrients, biotic, and abiotic stress from each spot, and compare with remote sensing maps. We found that the information from the maps is consistent with the stress and health data.
Benefit to Cranberry Growers
These cutting-edge imaging technologies are invaluable to the cranberry industry. The integration of multispectral, thermal, and visual imaging techniques can transform cranberry crop management. This technology has the potential to identify problems at an early stage, thereby alerting growers to take the necessary precautions to ensure crop health and boost yields. It allows for a targeted approach to diseases, weeds, insect damage, abiotic stresses, and nutrient deficiencies, as you can easily identify the problem areas in a bed. Additionally, by understanding potential threats' exact nature and location, growers can optimize management, minimize waste, reduce environmental impact, and improve economic outcomes.
This article was posted in
Cranberry
and tagged
Allison Jonjak
,
Amaya Atucha
,
Cranberries
,
Dharani Suresh Babu
,
Jyostna Devi Mura
,
Multispectral Imaging
,
Nick Chambers
,
Ryan Alpers
.